more than a way of life,
it's a way of being
Beyond our ideas of right and wrong
there is a field. I'll meet you there.
Rumi
Photo by Nicole Franzen
Perhaps every generation is so self-obsessed as to think they are different to those who have gone before. What if the world around them was as complex and confusing as today's world appears to us? Can you imagine first learning the world was flat?
There are so many reasons to celebrate today and still so much cause for concern. Advocateur is a time and space to think about the way we live - a moment to reflect on the influence we have on the world around us and how we intend to shape the future.
Bringing together writers, artists, historians and visionaries to describe the world they see and the one they imagine. Creating bridges across time so wide that they will carry across all those who wish to travel. Exploring different ways to think about life and muse about unformed ideals and all the while trusting you will participate in this experiment and act out some of your dreams and challenge some of your fears. Don't hold back there's really nothing to lose.
On becoming ADVOCATEUR
Of course, like most things in life you know it when you see it. When you feel it. It's the searching through the rough to find the smooth. As you become more experienced you understand that the searching is an integral part of the process. Rough edges are softened and smoothed by experiences and by constant discovery and new growth. Your gifts, such as they are, in all their creative forms go to generate a unique celebration of human existence
in you.
In 2010 I wrote a paper entitled 'Natural Born Neighbours?' where I wondered how neighbourhoods work and asked the question, 'are some people naturally gifted at being neighbourly with higher levels of empathy and a drive for social interrelationships?' If so, is this valuable capacity natural or can many more of us be nurtured to 'do the right thing by our neighbours?' How do we learn to be better at it and what are the benefits to each of us as individuals and then collectively as neighbourhoods, regions, nation states and the world at large? The seven years have been a journey of discovery. Some days Wonderland has felt very real to my Alice and I have both shrunk and expanded before my own eyes.
Sarah Farrugia
Editor
I have been taken to the limits of my understanding. My own worldview has been challenged countless times. Other days have offered exquisite, boundless joy. This is not an easy ride, nothing valuable ever will be. It is however deep, rich, rewarding and will go a long way to satisfying the competing dual human urges we each have for safety and security alongside curiosity and excitement. Be more advocative with us. Become whole, distinctive, find the inner drive that may have been lost over time or may have never been given the chance to shine.
Become ADVOCATEUR with us, through us. Together we will find new paths that have never been found before.
GET UP AND DO STUFF, HERE'S AN A-to-Z on WHY...
Become ADVOCATEUR through your natural talents and gifts, we write, we think about the way the world works, we share ideas, we make new things happen, together...
Be more advocative to cut through some of the nonsense that we tell ourselves about each other...
Dawn To Dusk - it's too easy to think that the elderly are out of date and the young are where it's at. It's even easier to think that the young are self obsessed and a waste of time while the elderly are wise and right. It all depends on perspective. We think there's a lot to do to ensure that young and old grow together and change the world for the better hand in hand.
We Have Social Issues - we speak up on issues of the day, on ways to make the world work better, we are advocative for others,
with others...
Last night, 25th October 2016, we gave a presentation in Farringdon at The London Forum on how young people can get more involved in civic societies and how older generations can open their hearts and minds to what they need to do to engage more fully with generations to come. To say it was inspiring is an understatement. We were so happy to see the level of interest and discussion on how we can work together in more meaningful ways.
Click on the slideshow below to see the presentation. Thanks to Anna, Lauren and Alex who shared their insights and their hopes and ambitions so openly with us.
See the slide show below which demonstrates why we need to connect...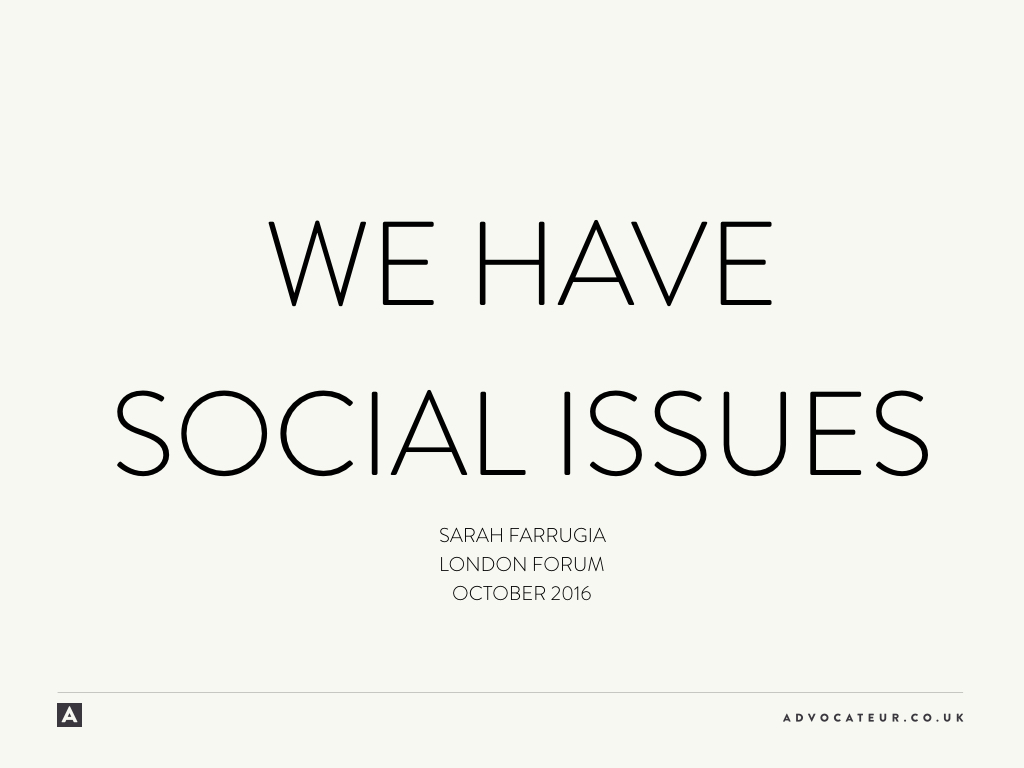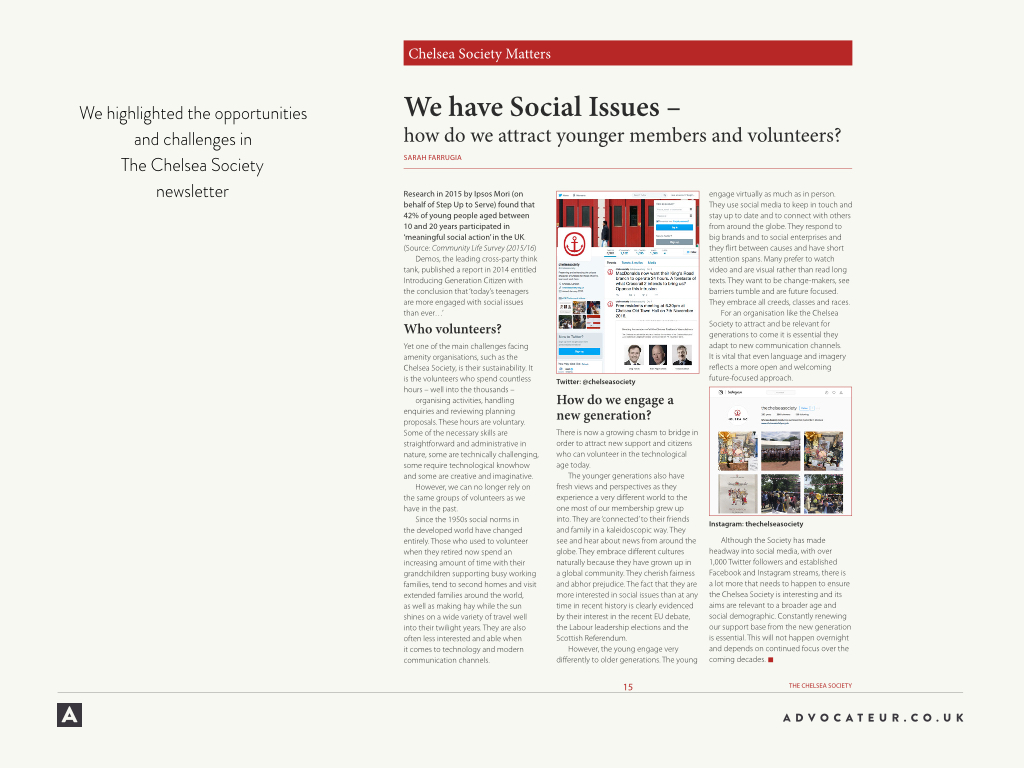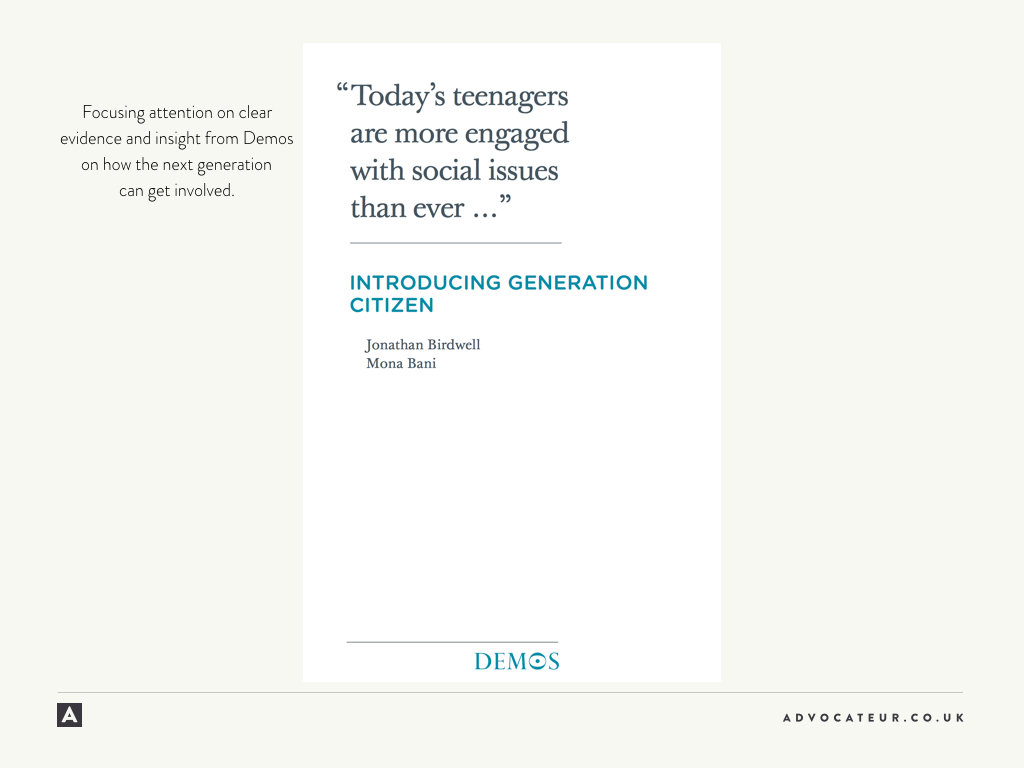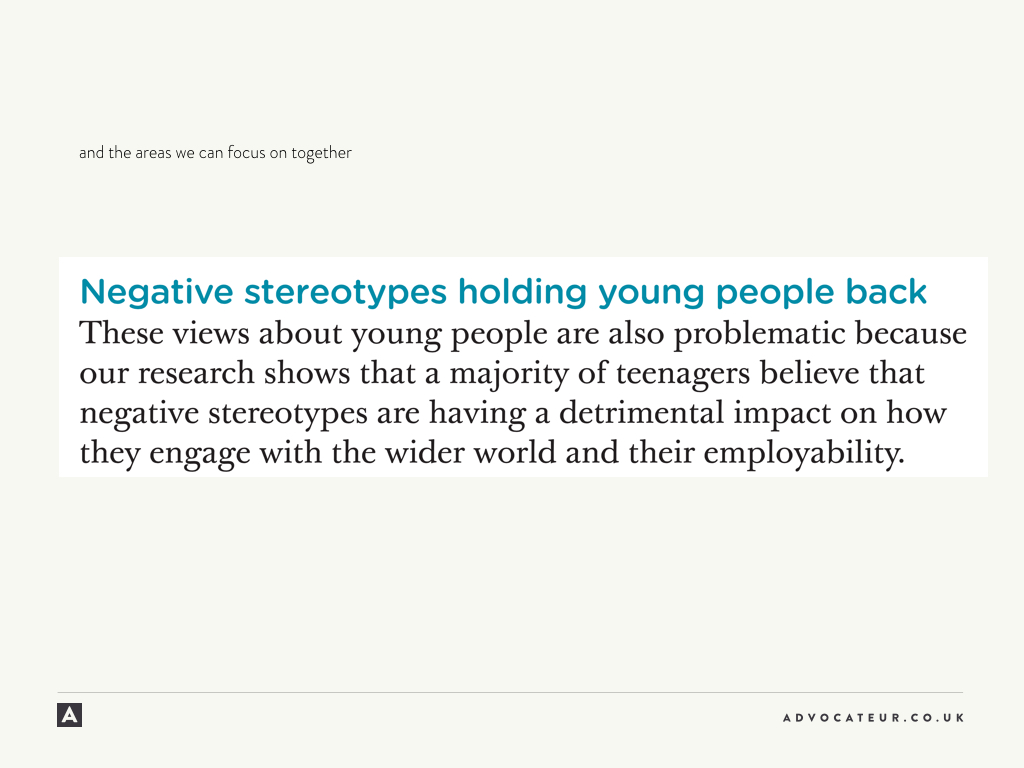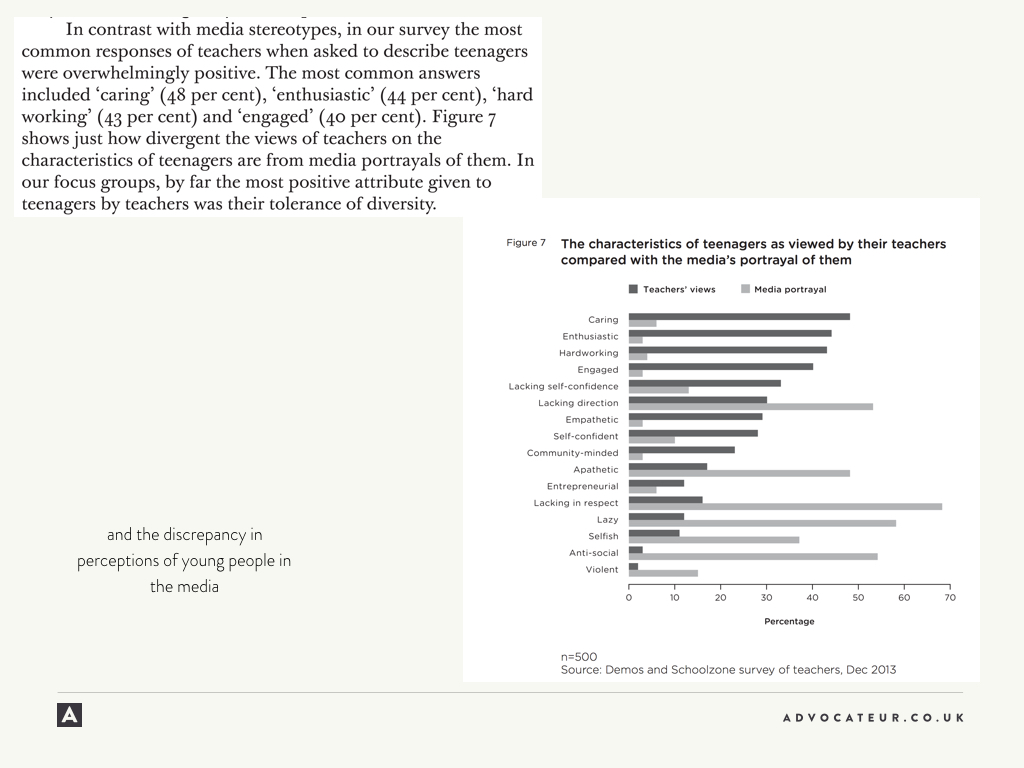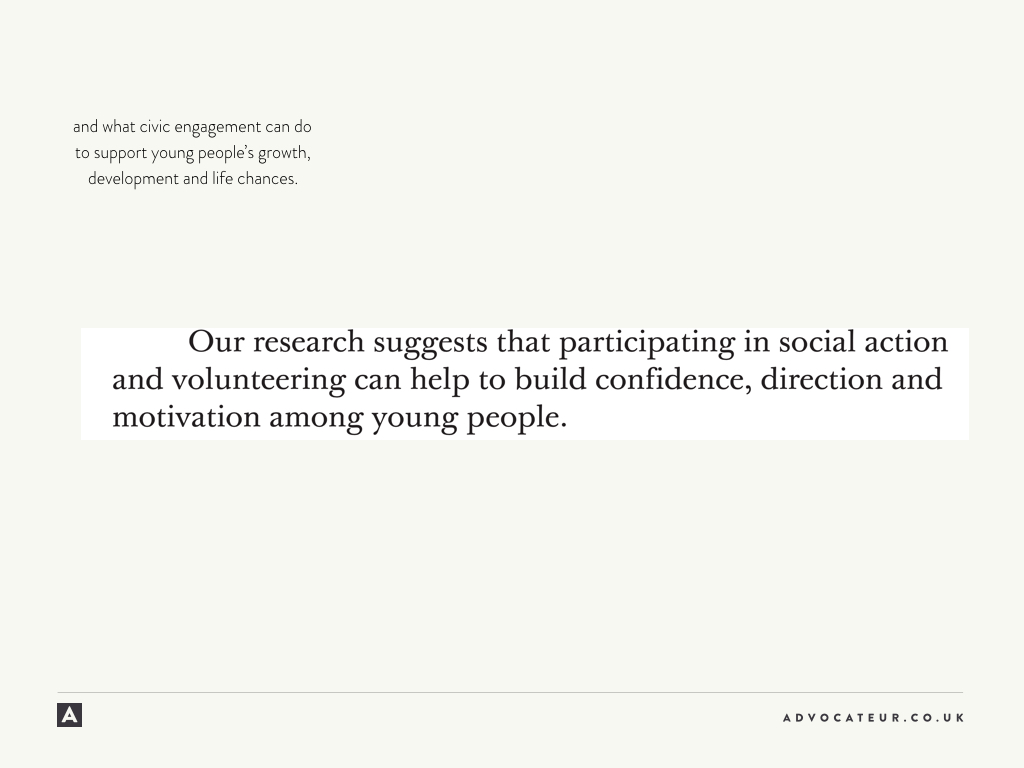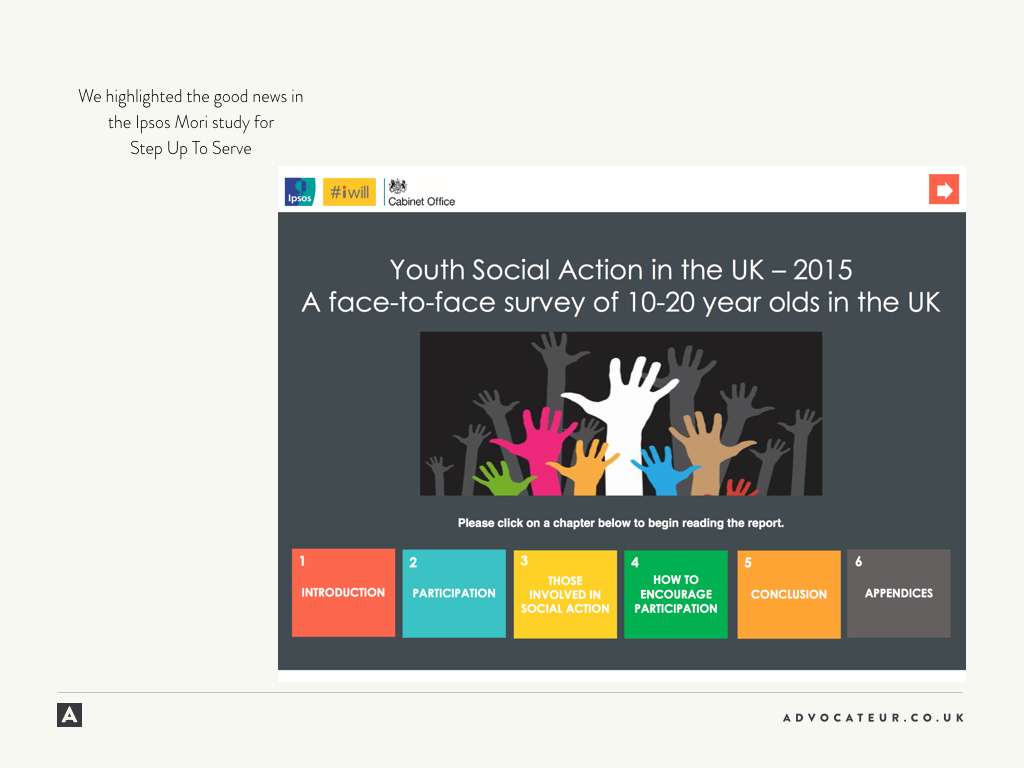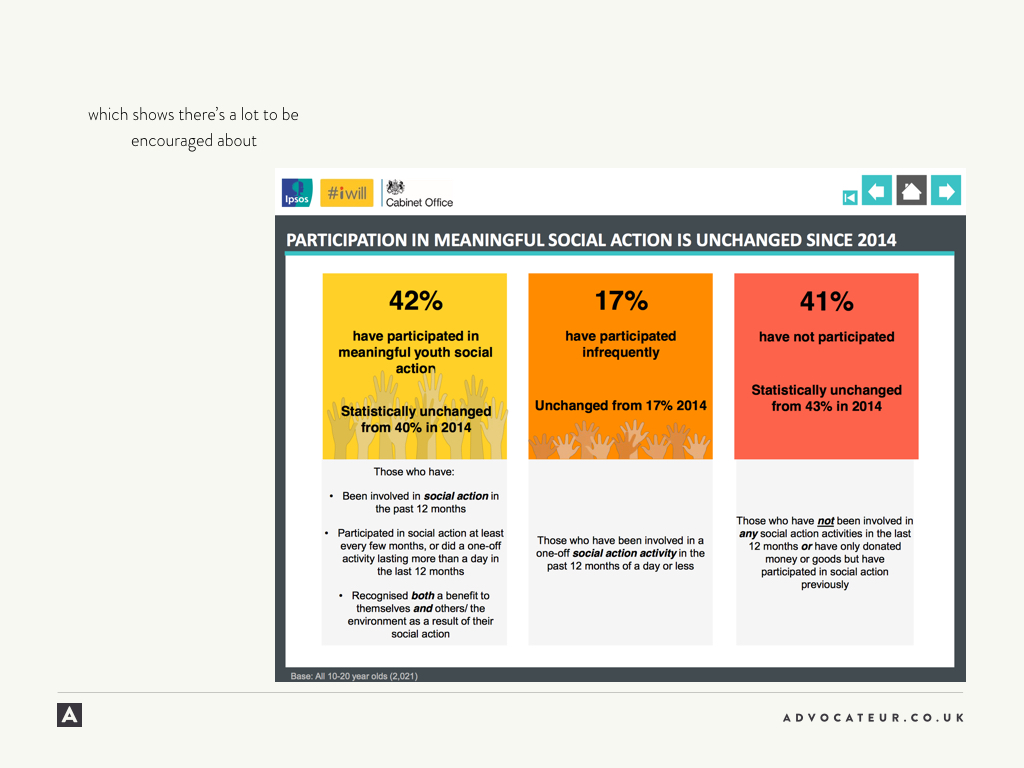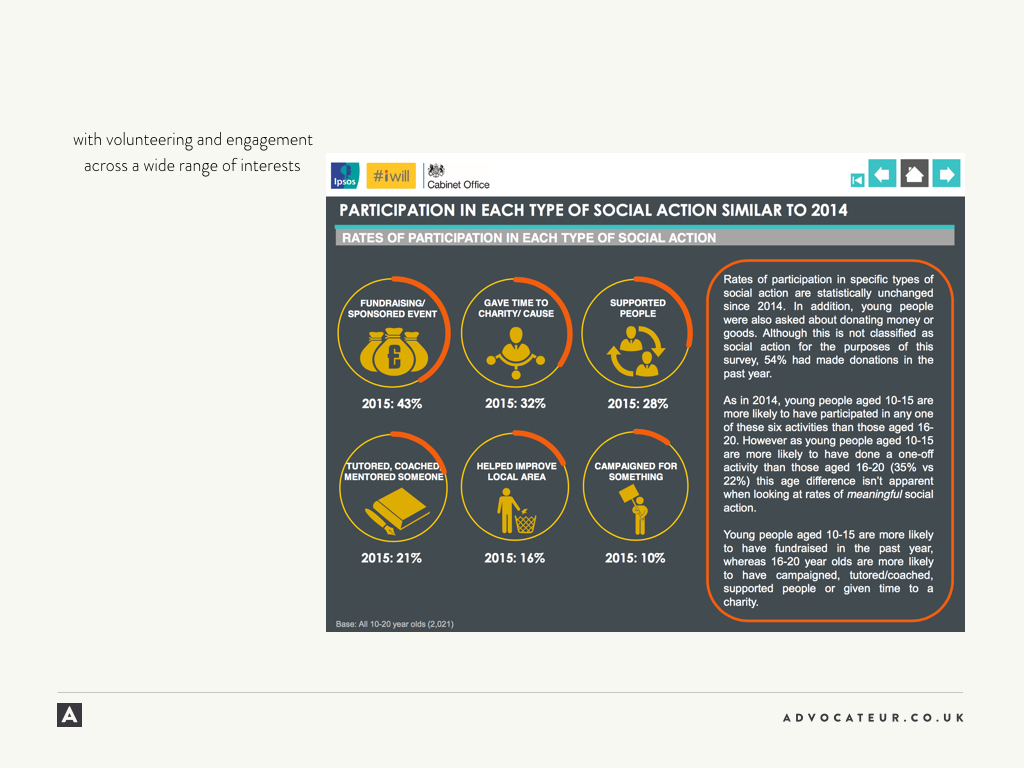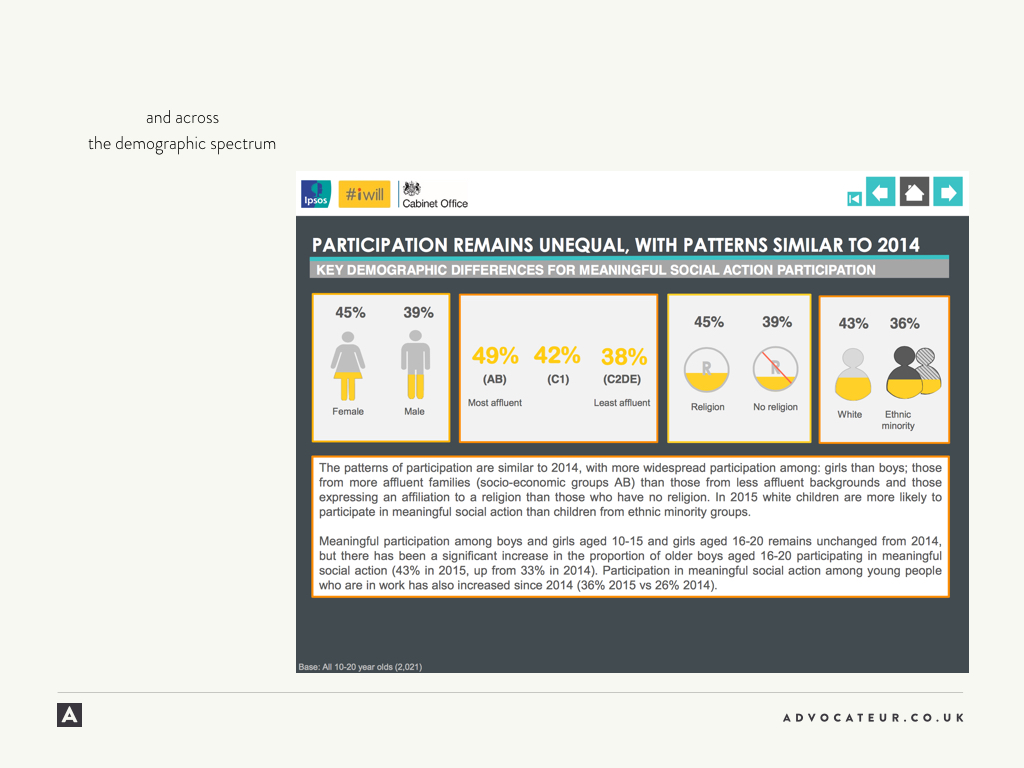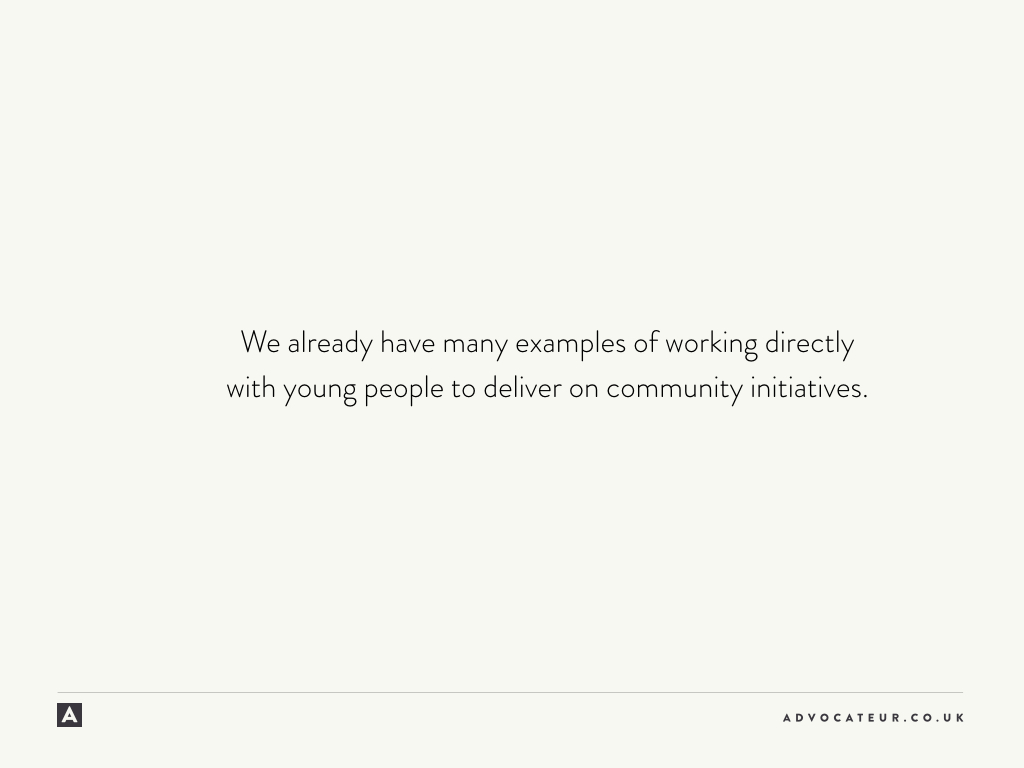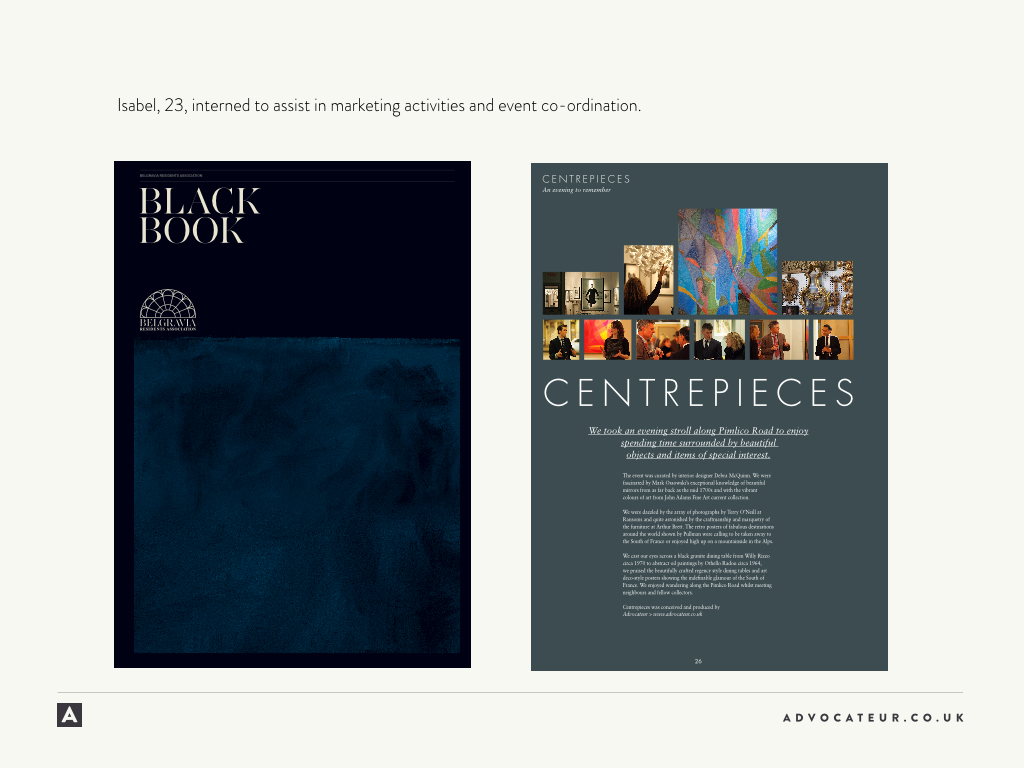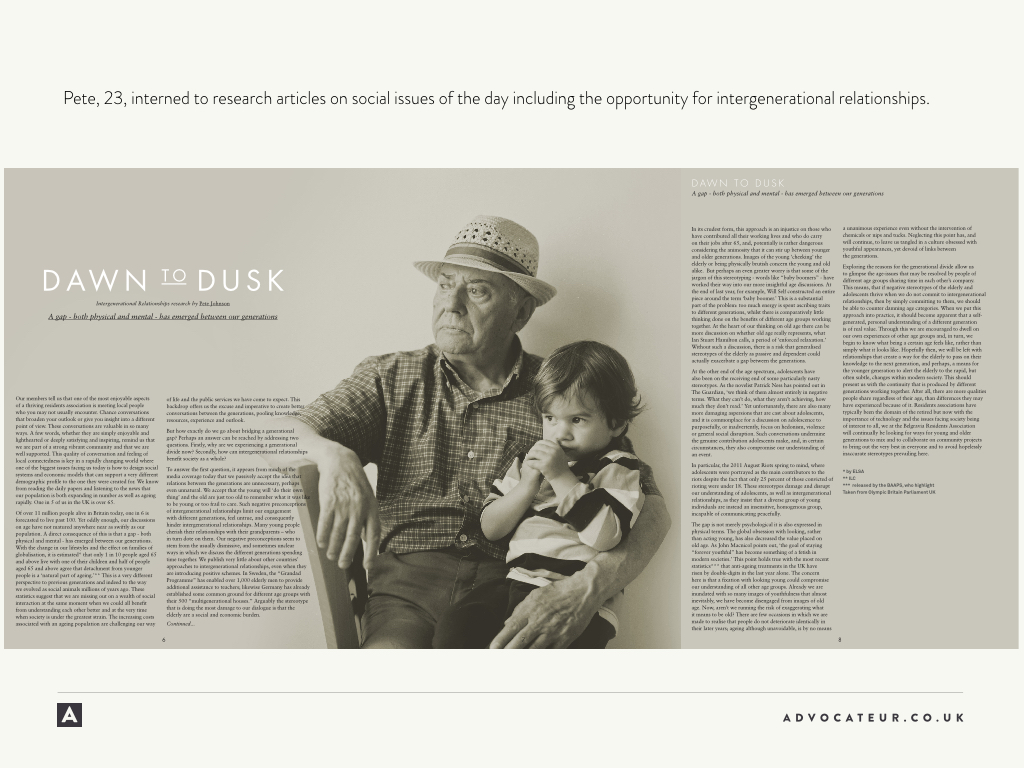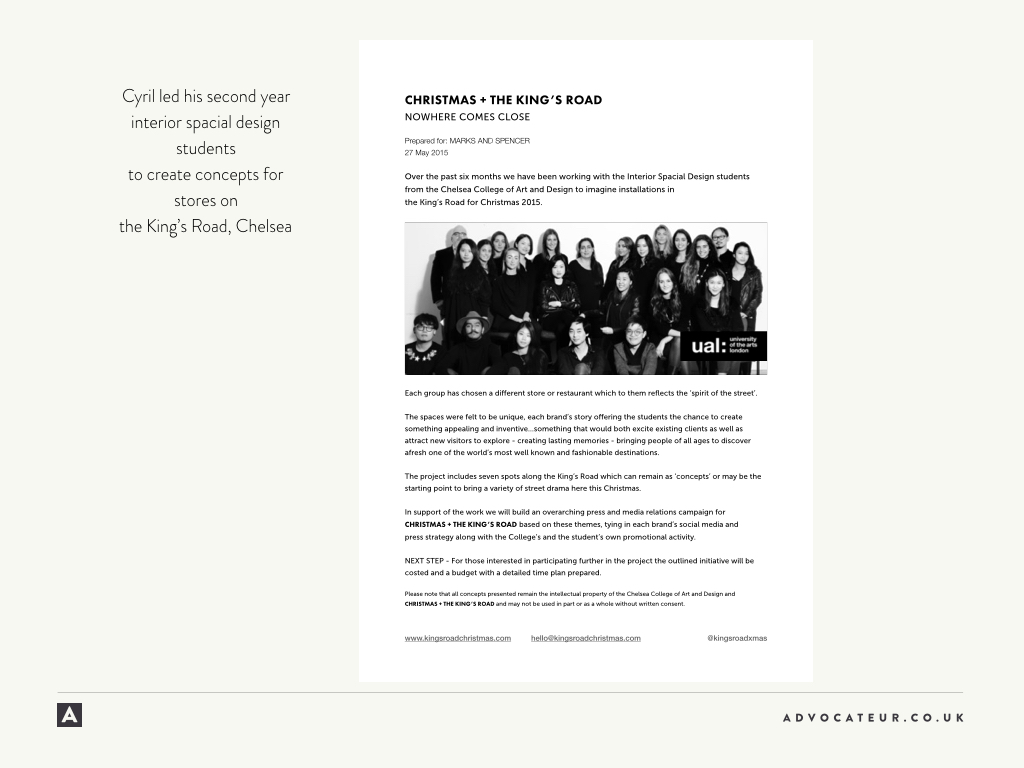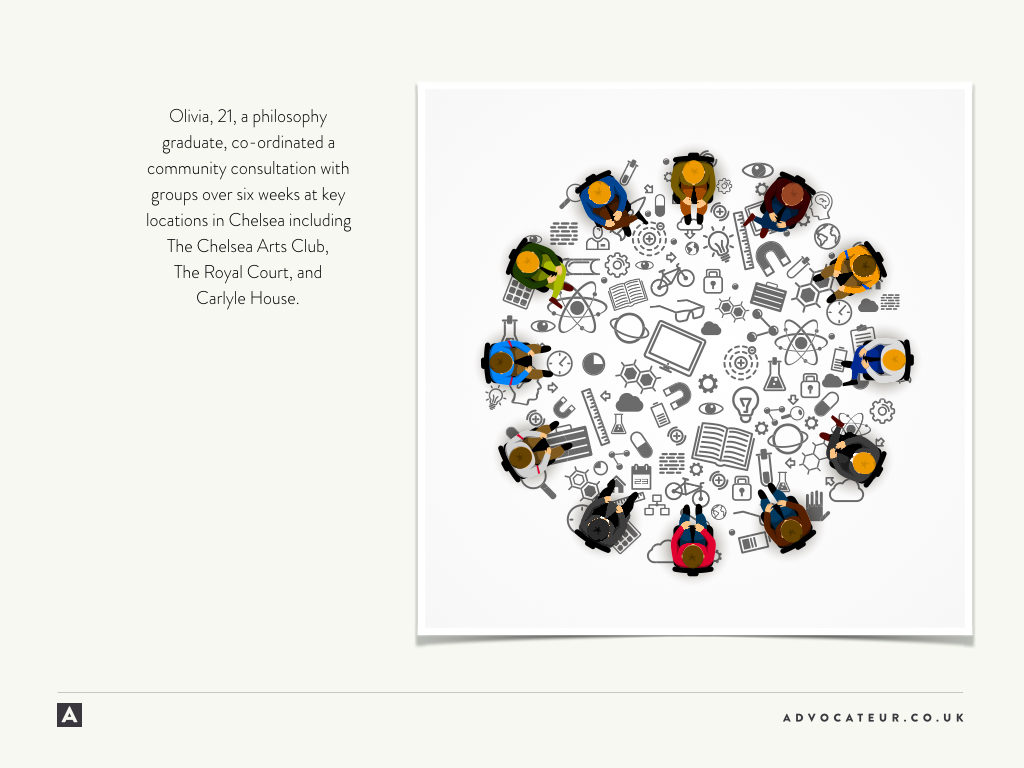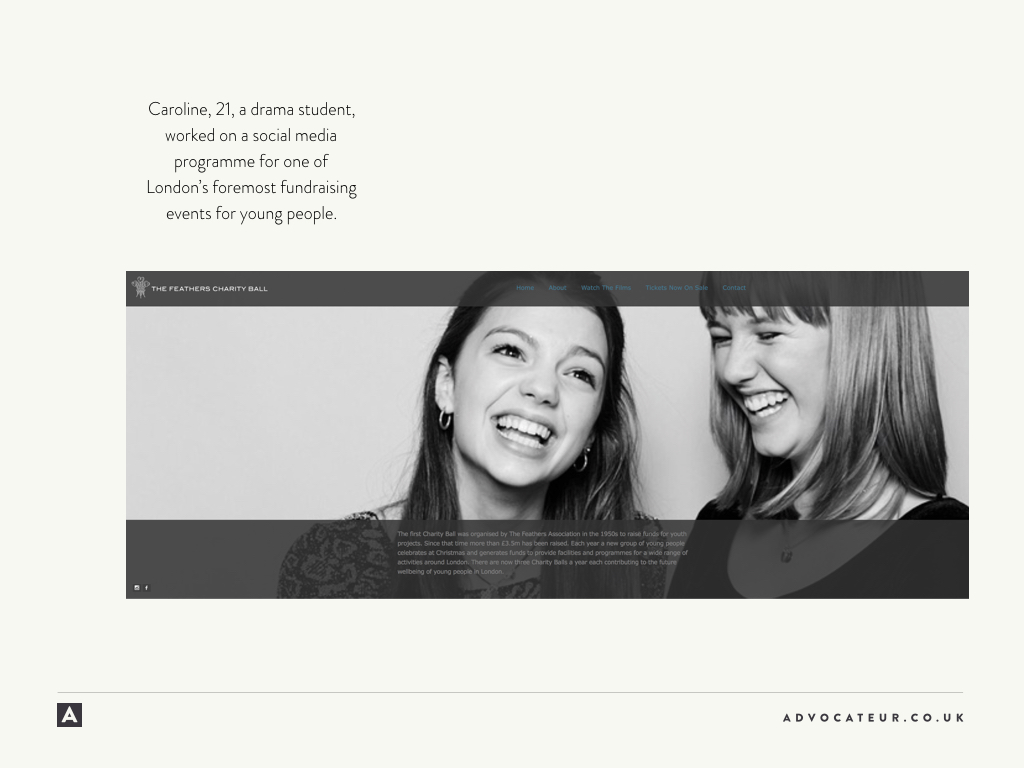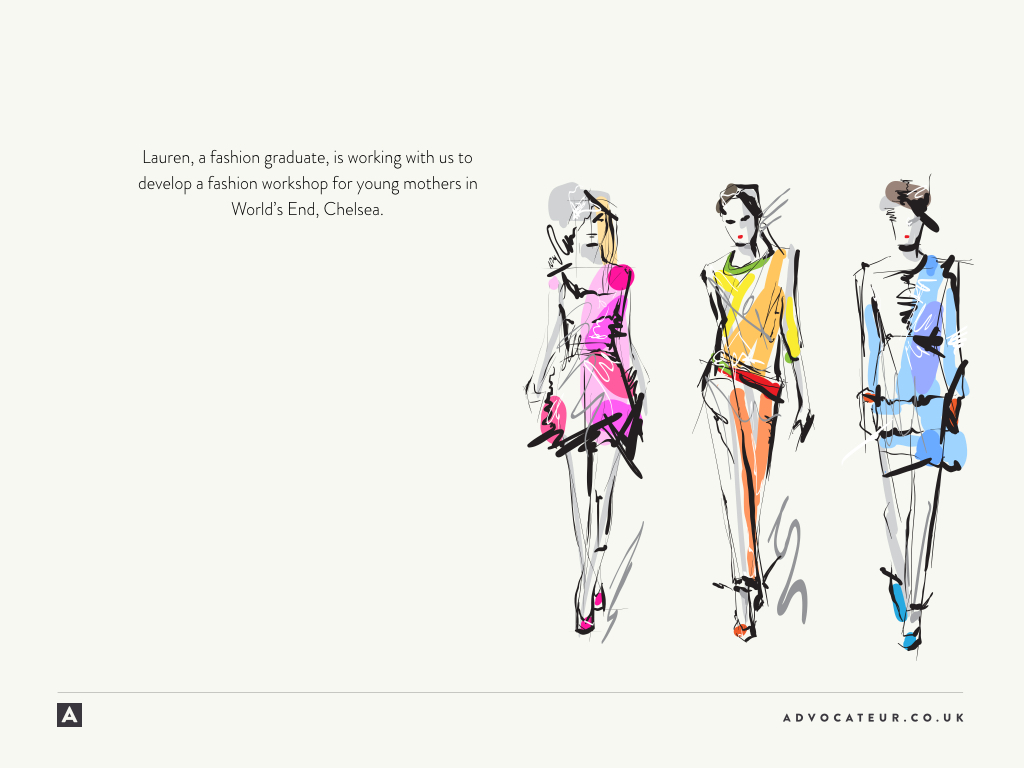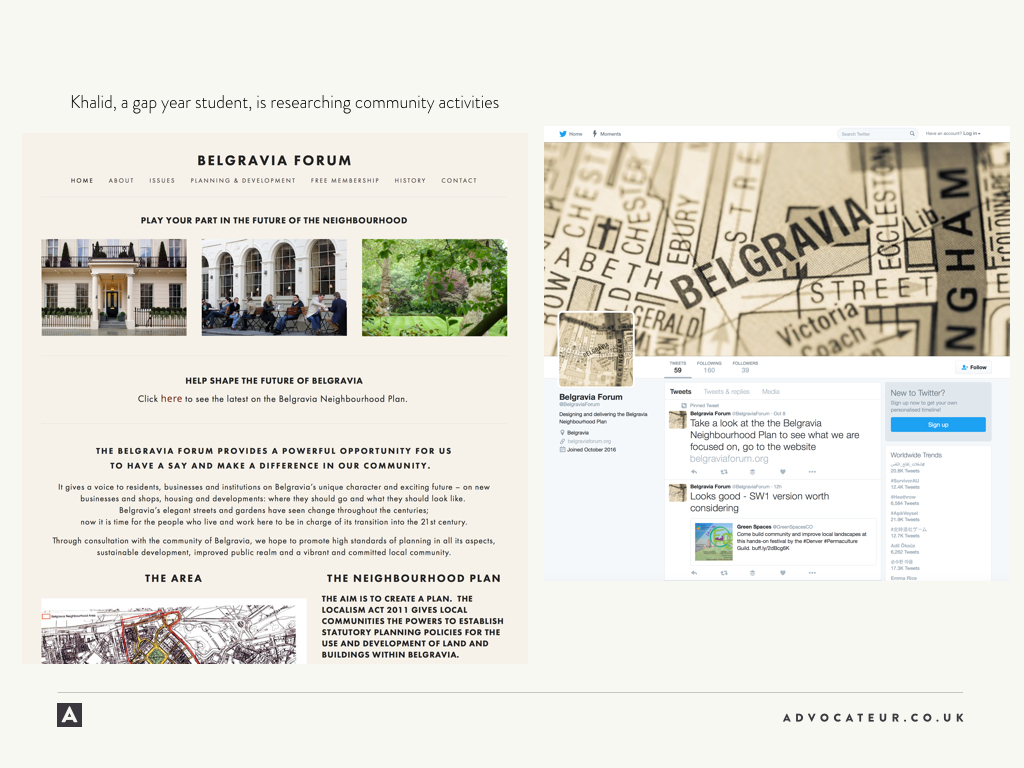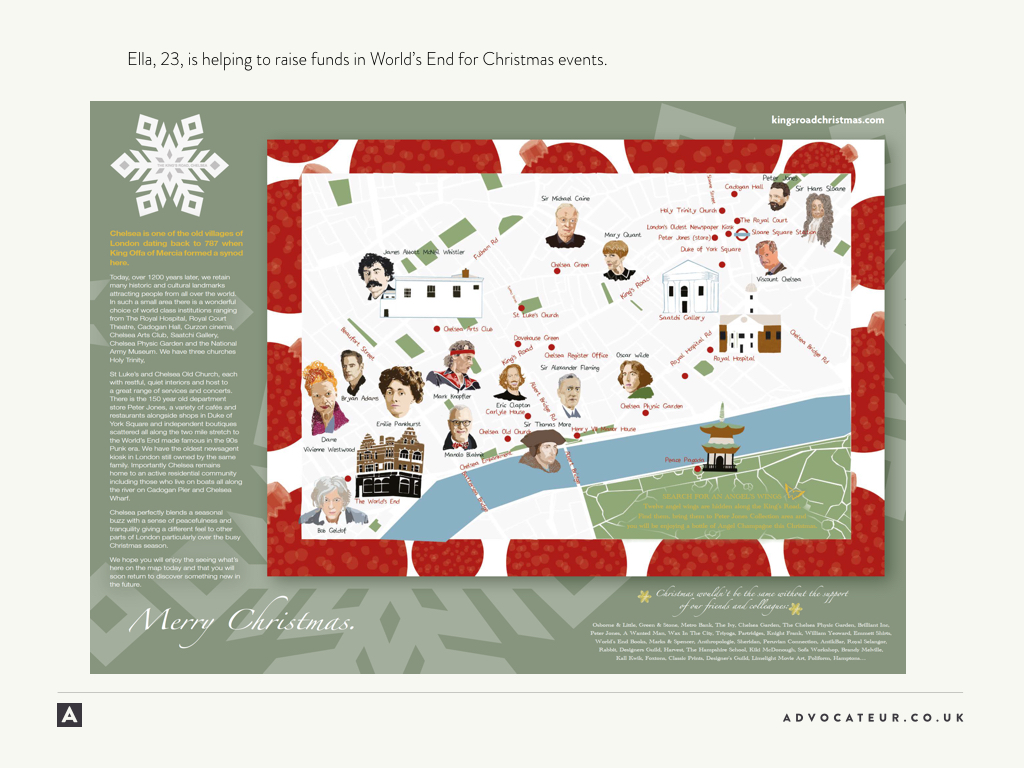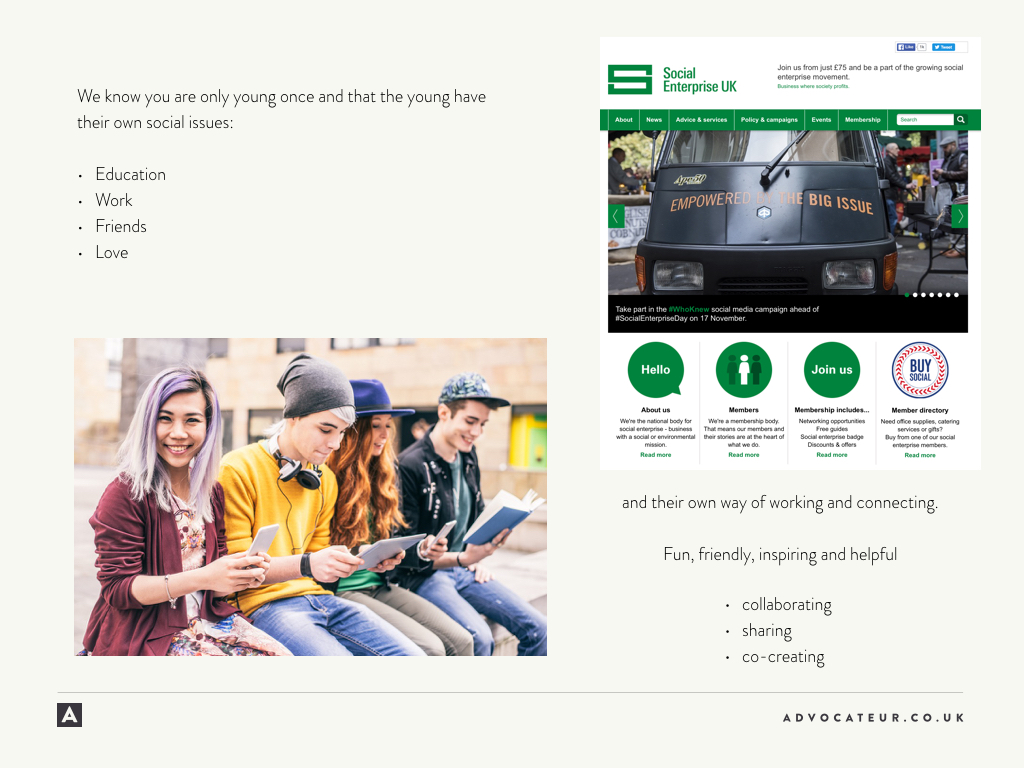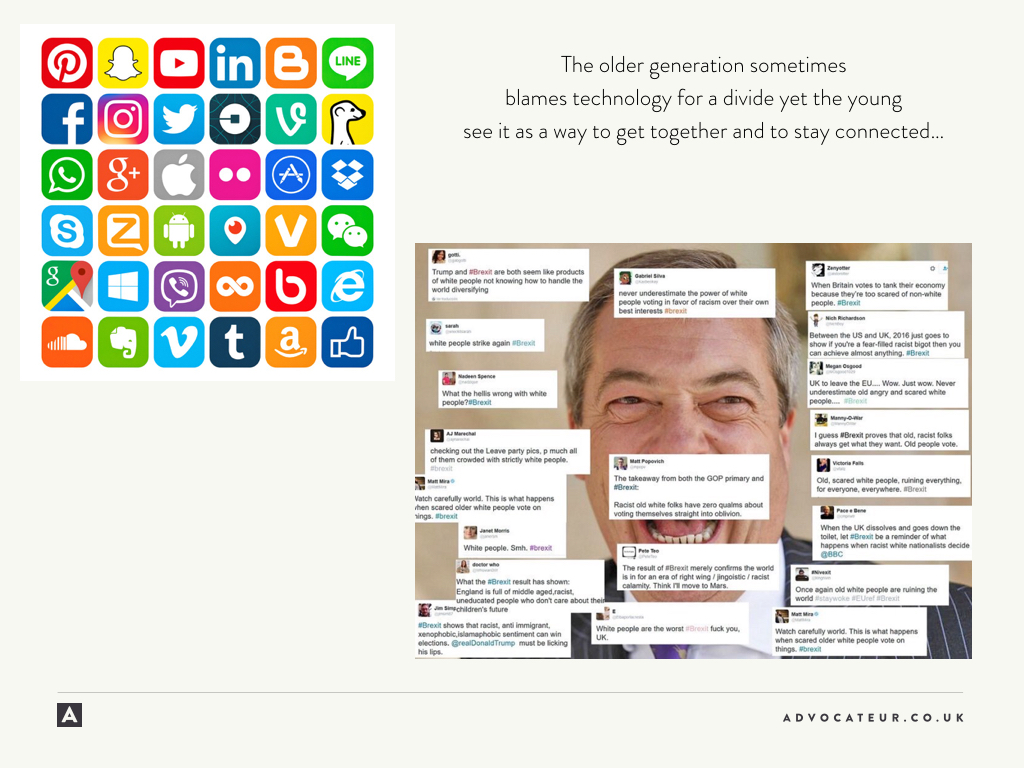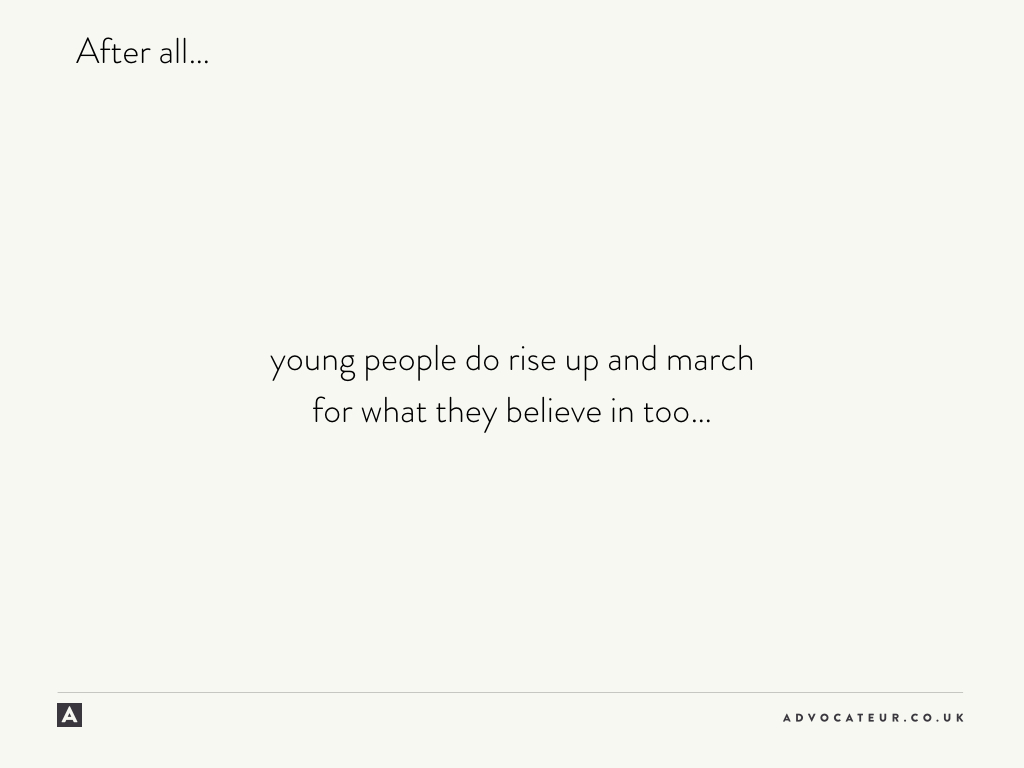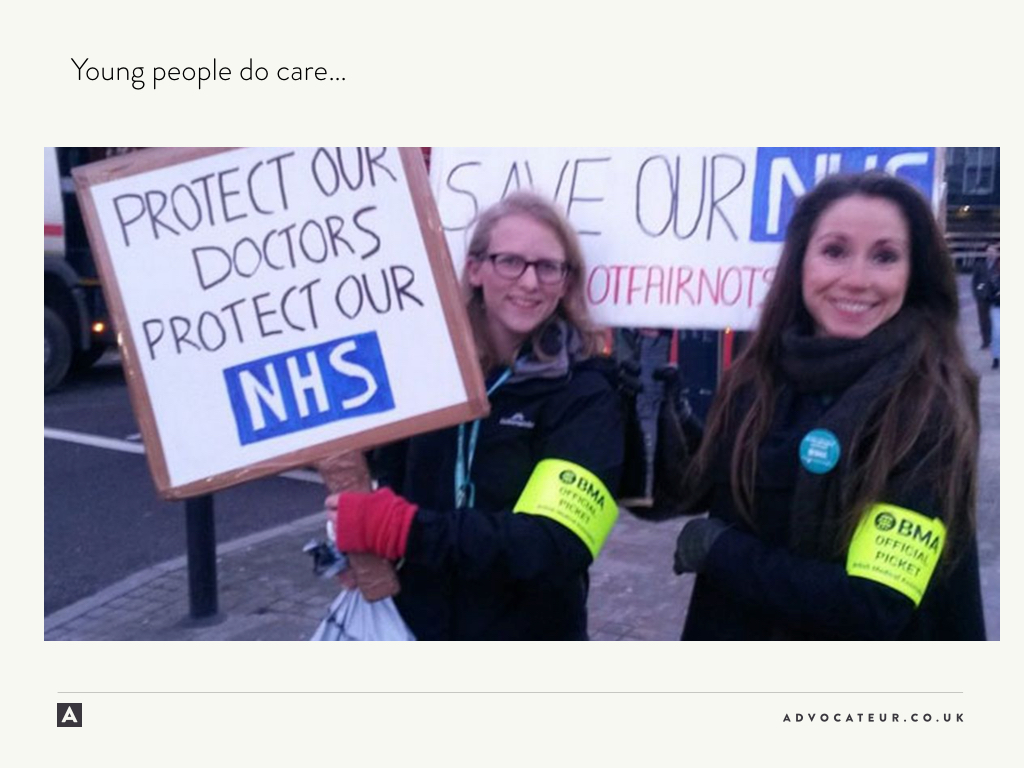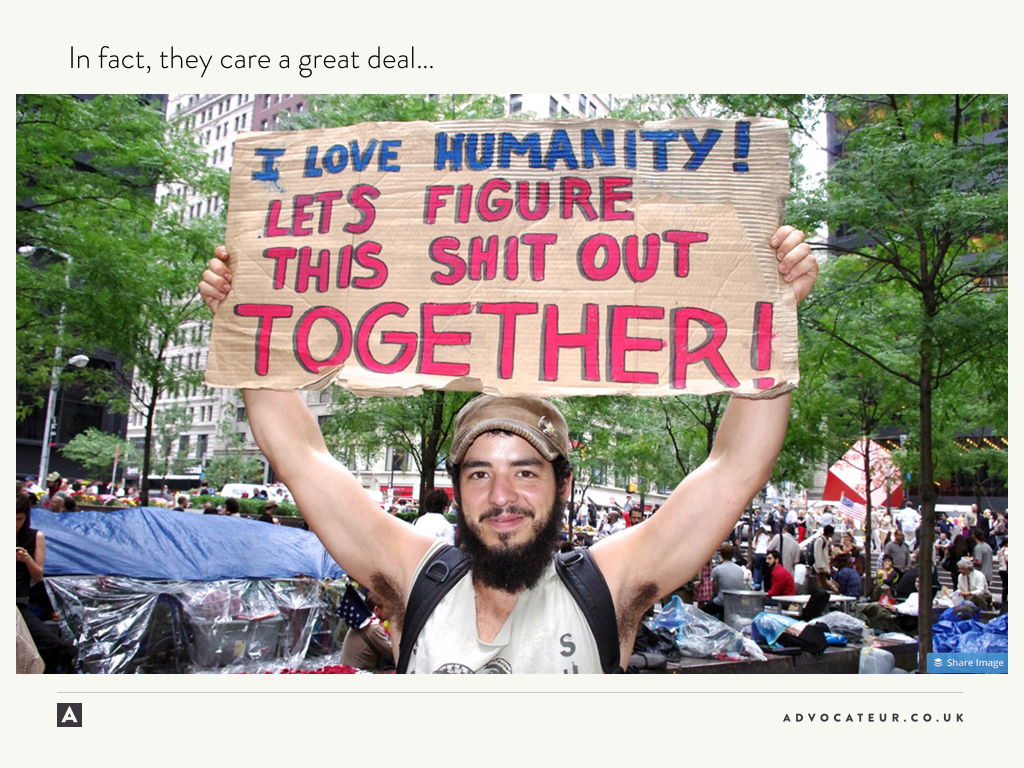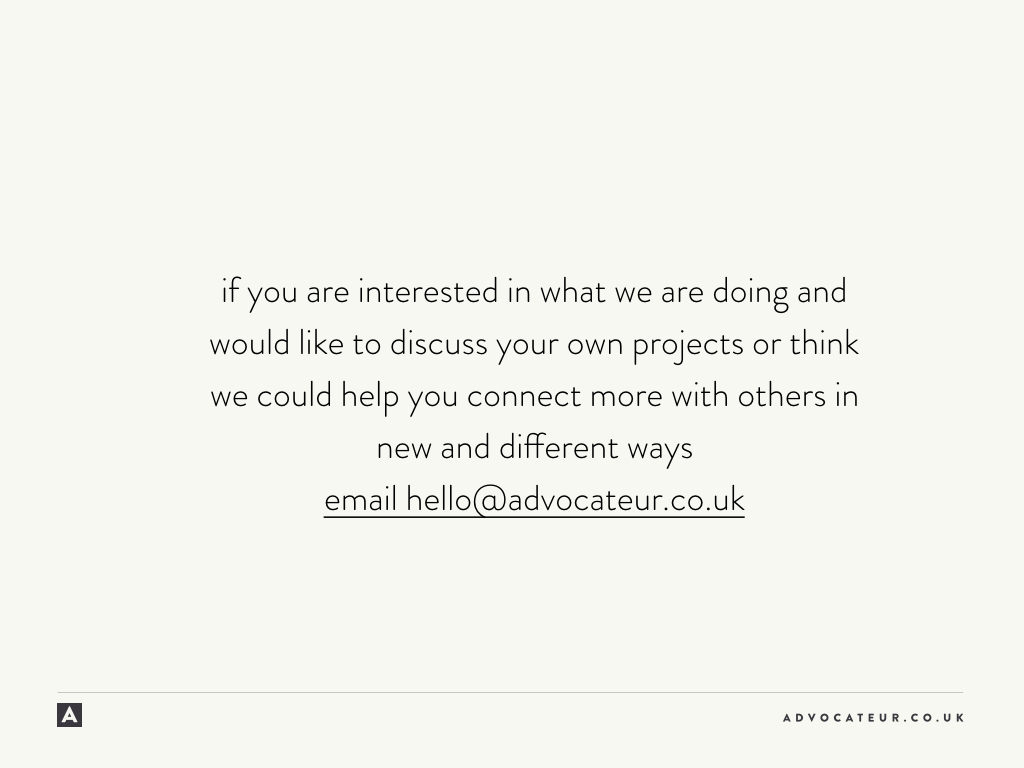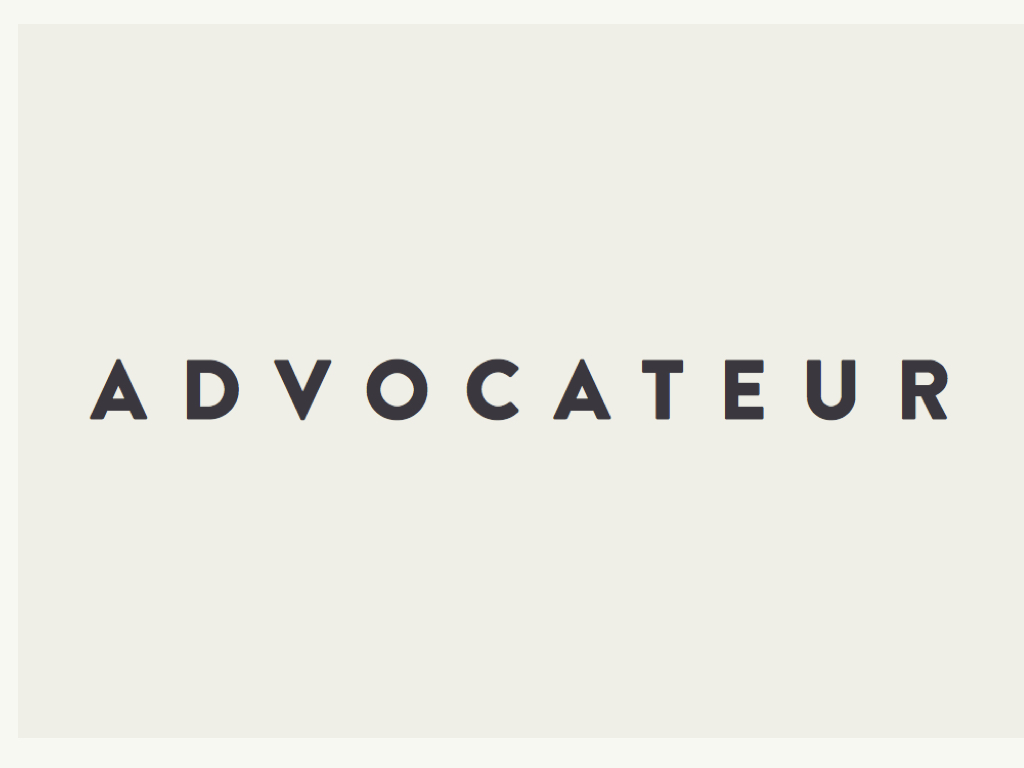 Friends In High Places - we get together to talk about interesting ideas at fabulously high locations, to bring out the best in everyone and to defy gravity...
We host conversations that reach deep into modern living and high into what's important to us today. When someone famously said 'when they go low, we go high' we took them at their word. Why not come with us?
The first in the series of Friends in High Places took place early November in Darwin Brasserie at the top of the Walkie Talkie Building. The conversation over dinner was preceded by a walk in the Sky Garden to get our thinking flowing and to take a view over London's rooftops. We think it's important to get the big picture clear before scaling the heights of the imagination and sifting through the shallows of everyday life.
If you would like to join a conversation with Friends In High Places email hello@advocateur.co.uk for more information.
At the next supper we are discussing 'VANITY' - can you imagine...
We can also design bespoke events for your own business or individual requirements.
We write about topics of interest and challenge some norms in an advocative kind of way...
How does fashion impact on our life? How can we think about fashion differently? Who's pulling our strings and why? We take a slow walk down the King's Road, Chelsea to discover what makes us dress the way we do.
Fashion and 'wearable tech' expert, Bushra Burge looks at the trends in fashion.